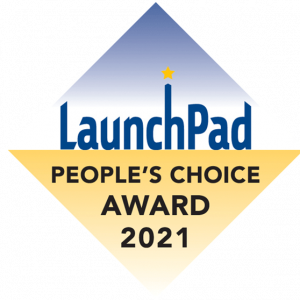 ImmerseMe
Co-Founder & CEO: Scott Cardwell
Primary Audience: Government/Adult Ed., Undergrad, High School, Middle/Jr. High
ImmerseMe is about virtually stepping into a beautiful and authentic location to learn a language, so that when you travel to these wonderful places in real-life, you'll be prepared! Choose from over 3,000 interactive scenarios across 9 languages: German, Spanish, French, English, Japanese, Chinese, Italian, Greek and Indonesian.
LaunchPad Questions
During the LaunchPad, the audience had an opportunity to ask questions about the products. The Tech Center shared those questions with the entrepreneurs and here are the responses.
Are you going to include minor and endangered languages?
Yes, we would love to start incorporating more languages, particularly minor or endangered languages. Currently a (minor) limitation is the availability of speech services such as Speech-To-Text API and Text-To-Speech API so that we can provide the rich interactivity that ImmerseMe provides. Unfortunately, with many minor or endangered languages there sometimes isn't enough data (so Google say!) to accurately train the algorithms which power the APIs. However, it would still be possible to build authentic videos and a curriculum with language experts and allow students a chance to practise, without requiring an 'audio recording' to transcribe, in the meantime while Speech APIs are developed. The business model then needs to fit alongside the investment in content/testing, which may be able to get partially or fully funded by government, NGO or philanthropy?
How is speaking integrated?
Every ImmerseMe lesson has a speaking component using Speech-To-Text API as mentioned above.
Is this based on existing course materials? It seems very comprehensive.
Yes, every ImmerseMe lesson has been drafted, edited and peer reviewed by a dozen (or more) language teachers to fit alongside established language programmes and cover a range of topics common to many language curricula.
What are the costs to schools for VR equipment? Is this meant for schools or home? Couldn't teachers and students engage in Role Play without the app?
VR equipment is rapidly reducing in cost. Depending on the type of HMD (head mounted display), students could access ImmerseMe from VR with a simple Google Cardboard (free to download a template to print), through to the more powerful devices such as Oculus Quest 2 (US$299) and HTC Vive Pro ($799 but requires dedicated gaming PC of US$2000+ ideally). We're excited by headsets like the Oculus Quest 2 because it is starting to make stand-alone VR much more affordable and I suspect the cost will drop even further in the coming years. Some companies are also specialising in dedicated 'class sets' of VR for education with cleaning products, charging stations and rugged cases for product longevity.
Re: home/school. Ideally both! Students might practise for 5-10 mins in class with their teacher available for questions and expert guidance, while the remainder of study time could be accessed at home. We've had emails from emotional teachers AND parents saying how incredible it is to hear their student/child speaking full sentence in the target language from the back of the classroom/bedroom. Engagement plus!
Re: role play, absolutely! We love it when teachers and students go 'off app' to use language in role play situations and make it more personalised and authentic. That's the whole point! We might be the inverse to most other 'tech companies' in that we want to move students OFF the website/app as quickly and efficiently as possible so they can get out and use language in the real world!! Great question!
How are you accounting for/considering the language production of "typing" on a mobile device and texting behavior vs. a desktop/laptop and full-finger typing?
At the moment typing is fine from most phones/tablets/desktop but becomes more cumbersome in VR so we recommend focussing on VR for speaking/listening only. We have custom-built our own input method within the browser so students will not need any special keyboard inputs installed on their computer, everything is provided within ImmerseMe! It's still early days but the feedback is positive for our custom IME (input method editor) so we'll continue to improve.
How do you integrate language variation within each language? It is just Spanish from Spain?
We'd love to record all sorts of languages + variants but with budget and time constraints (apparently a real thing?) we have had to focus on one primary variant for each language (the debate rolls on!) Yes, Spanish on ImmerseMe is Spain Spanish but as demand increases + budget + time, we'll ENTHUSIASTICALLY work on more languages + variants! Keen to help?
Does your AI recognize different accented speech?
To a certain extent. The Speech-To-Text API we harness is Google's which can allow for accent variance such as Great British English/US English, even New Zealand English! We are working on ways to allow the user to switch between the available options, which are quite varied. Check out the list here:
https://cloud.google.com/speech-to-text
Including the possibility to edit the responses (aka for students to make language their own) is a great addition.
Thank you! We're really excited about the addition of interactive sentence builders which was always the next logical step for us once we'd worked out how to reproduce scripted simulations. Taking interactivity down to a chunk by chunk level of detail is supremely time consuming but the end result is totally worth the effort. Our vision of building 'the world's best academic language tool' means we aim to replace/supplement ImmerseMe lessons with this new style of personalised agency focussed interaction. Wish us luck!
Academic language? The examples were from tourism?
There are over 3,500 interactive dialogues covering manyyyyyy academic topics such as 'talking about the impacts of technology on the environment' to 'discussing the advantages and disadvantages of vegetarianism'… it's just that the cafe/bakery is such a great looking poster child when we have less than 5 mins to talk about EVERYTHING we're trying to do.
If you'd like to check out a sample of lessons across our range of 50+ topics then visit https://my.immerseme.co/login and enter:
Email = demo
P/w = demo
Or use our Contact Us form to request a complimentary teacher admin account for your organisation/school.
Can teachers modify existing activities and create new activities if needed?
Due to the time-consuming nature of scripting, shooting, editing, uploading and testing new content (with 360 video and professional audio) it mayyyy be a stretch for busy teachers to add 'film director' to their resume, so we have taken care that ourselves for the moment. However! Teachers can certainly customise the layout of lessons to match their scope and sequence or assign specific lessons as tasks. We will start looking into a lesson 'editor' or perhaps a lesson 'creator' in the short to medium term as it would be EPIC to put this kind of interactive capability in the hands of teachers. The creativity would run wild and we'd love to support more curated content for specific curricula around the world. To be continued!
Impressive! Have you mentioned impact on proficiency, beyond lowering anxiety, increasing willingness to communicate, and (don't remember the last variable)?
The study shown in our presentation was limited to Willingess to Communicate, Anxiety and Self-Perceived Communicative Competence (all proven to 'improve', i.e. WTC/SPCC went up while Anxiety reduced). We are currently liaising with a number of other researchers to investigate proficiency, learning outcome improvement and teachers' beliefs and practises. Stay tuned!
Is this for older kids? Middle/high school or university?
Yes, ImmerseMe is most appropriate for students aged 10-21 (middle, high and university level).
I wonder about the price point. Might be a tough sell for public schools in the US.
There is an 87% academic discount available for registered institutions which we think fits well as a replacement to what would otherwise be spent on something like a workbook for each student each year.
How do conversation partners in the VR environment react to learners?
Every lesson is pre-recorded and designed to help learners succeed through a menu of buttons which play/pause, repeat, slow mode, translation etc so that students can access support/scaffolding within every lesson mode. This is a work in progress and we hope our new interactive sentence builder style will allow for more granular support in every lesson. Currently there is only a 'reaction' from the native speakers if an utterance is accurate enough to be accepted (students can control game accuracy from easy [50% accuracy] to medium [75% accuracy] and fluent [100% accuracy]). If the utterance doesn't reach the threshold required then there will be no alternative 'response' from the native speaker but we are working on ways to give immediate diagnostic feedback to students.
Which VR technology are you using?
We're currently using a technology called
A-Frame
which is a WebVR framework for hosting 3D content within a browser.
Can't find it on App Store.
ImmerseMe isn't packaged as an 'app', it's a 'WebApp' which means that we deploy our product to your browser and you can run it on any device such as desktop/tablet/mobile/VR headsets – all very convenient without having to write code for each platform as a standalone app! To make it 'appear' as an app on your mobile/tablet then simply login to the website, navigate to the page you want to return to often (such as a specific language) then click 'share' > 'Add to Home Screen'… screenshots below. (You can use this method for any website you visit frequently too!)

Any accessibility issues?
Generally we need users to have consistent and high quality internet access, in terms of accessibility requirements.
Contact Information
TECH CENTER
1890 East West Road
Moore Hall 256
Honolulu, HI 96822
(808) 956-5121
tech.center@hawaii.edu
The Language Flagship Technology Innovation Center is funded under a grant from the Institute of International Education (IIE), acting as the administrative agent of the Defense Language and National Security Education Office (DLNSEO) for The Language Flagship. One should not assume endorsement by the Federal Government. Project P.I.: Dr. Julio C. Rodriguez